Not to be put off by a snow-storm or two, on the 17th December 2010, senior Explorers from 8th Holborn and Haringey's Wild Wolf ESU headed off to Empshott in deepest Hampshire for a weekend of leadership training. With tasks ranging from stretcher races and enemy stake-outs to leadership challenges and presentation seminars, the Explorers were able to hone their skills and try out new ways of doing things.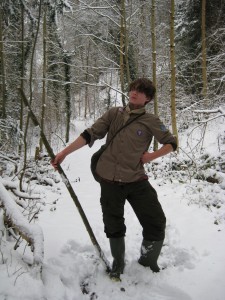 On Sunday, the camp took a more relaxed turn with a spectacular full roast lunch kindly cooked for them by Akela. The joint was earned by the Explorers themselves, by helping a local farmer break the ice for his sheep and clear a hedge of poisonous Laurel. Putting their problem-solving skills into action, and much to their delight, the Explorers soon discovered that the latter could be more efficiently achieved by cutting down large branches and even entire shrubs!
Before they braved the snow-covered roads back to London, the Explorers took part in the annual candlelit Carol Service at the small village church, where they were greeted with much admiration from the locals for camping over in the very basic World War I village hut. Who said Londoners were soft?